The George Blog – Category: Design (10 Most Recent)
Instructions Book 5 for Design No. 165
Up until now, current builders have been using #119 instructions for the later part of building their boats.

The new #165 Instructions Book 5 now carries the builder through to completing the deck and superstructure structures. It also covers turning the boat over, setting up, epoxying the interior, planing and bevelling the sheer and making the ballast keel pattern – there is also a section on casting your own lead keel.
---
Deben 4-Tonner
I've taken the opportunity over the holiday period to complete the recreated Construction Plan for the Deben 4-tonner.

This has been a long while coming – but it is hard to find the time to do this sort of work. Recreating a pen and ink drawing using a CAD program is surprisingly difficult: the two media are very different.

The original tracings of the Deben 4-tonner are 80 years old and very yellowed and fragile, so any form of printing is pretty much impossible – which makes it a scale rule and drawing exercise – which is very time consuming.

I have W. M. Blake's own scale rules – so I feel it is appropriate that I have been using them to recreate his drawings 80 years on.


The original construction drawing also has three amusing little fish sketches, one of which is reproduced here. All three are on the recreated drawing, as they were on the original.

Now I have the Gaff Rig Sail Plan and the Bermudian Rig Sail Plan to do – neither of which is as complicated as the construction drawing, so I hope to get them done in the next few days.

I will also be scanning two original Deben 4-tonner brochures, including specifications, which may be of interest to Deben owners and possible new builders.

I think that among the Deben 4-tonner papers is a corrected Table of Offsets, produced after lofting – if so I will reproduce this also.

These plans, together with the corrected offsets and the brochures provide sufficient material fo anyone who would actually like to build a Deben 4-tonner today.

Cheers – and a Happy New Year – George


Update 02:01:2017 – Gaff and Bermudian Sail Plans completed and added!

---
Deben 4¾-Tonner – New Design
I have just added another new design – the Deben 4¾-Tonner, inspired by the original Deben 4-tonner, the design of which was commissioned by my father in 1936 from W. M. Blake.

Bringing together the best of traditional style sailboats with modern construction techniques, this new design gives builders the opportunity to construct a traditional long-keel, round-bilge sailboat, based on a truly proven design (35 Debens were built between 1937 and 1960), with the structures simplified and intended for wood/epoxy construction.

In working through the design, I have also put together a list of all the Deben 4-tonners. As time permits, I will also be adding links to original photographs of these boats (where I have them) and news of their current status.

George
---
Sapphire 27
Some years ago we designed a super-classy modern sailboat called the Sapphire 27 – our Design No. 056.
She was exhibited at the 1995 Southampton Boat Show. And she proved to be an extremely fast and capable sailboat. Unfortunately the company that marketed the boat went out of business and no more were built.
I think that is really sad, because she is a great boat. She has sailed thousands of sea miles from England to Spain and back, crossing the Bay of Biscay many times. She has more than fulfilled the promise of her early sail trials.
I always thought that the original design had one major drawback – she deliberately had only good sitting headroom down below. I reckon at 27' (8.23m), one should be able to have reasonable standing headroom throughout the accommodation, especially if the boat is to be for family use.
So we redesigned the boat to have a little more freeboard and coachroof height – so she has good headroom throughout. We simplified the ballast keel and re-did the structures so that a variety of interiors could be accommodated without structural alterations; and we simplified the rig somewhat.
Other than that she is the same great seaworthy and fast sailboat. She is not difficult to build – but as home builders know only too well, 27' is quite a lot of boat in terms of time to build.
Over the next few months we will be developing the build plans and instructions so that they become available as a download.
---
Traditional Clinker Plans for Design 073 now available.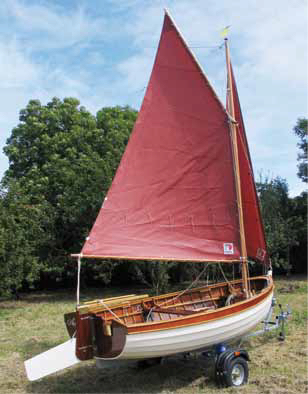 This boat has been built many times as originally designed, in ply/epoxy lapstrake on three thwart modules.

But she has also been built in a variety other construction methods:

Cold-moulded on laminated frames.
Frameless cold-moulded on a plug.
Traditional clinker.
Ply/epoxy lapstrake on laminated frames.
Solid timber epoxy glued lapstrake on laminated frames.

In fact there are more construction versions of this boat than any of our other designs!

I'm happy to say that, following a request from a US builder of this boat, the plans for the traditional clinker version are now included in the downloadable Design Package, alongside the original ply lapstrake plans and cold-moulded on laminated frames versions.

Also, here is a very nice article in Watercraft magazine about the clinker-built "Anemone" (opens a new PDF window).

George
---
More 165 Instructions and drawings
I keep adding new drawings for this design at regular intervals.

And recently I have added Instructions 3 – which are for making the frames, floors and transom on the the ply sandwich version.

And Instructions 4 for the laminated version, which take builders up to hull completion (both lapstrake and cold-moulded)

Cheers -- George
---
Design 165 Plans Page Reorganized
On the suggestion of one of the builders of this boat, I have reorganized the Plans Download page for this design, to show the Issue Dates for each plan.

I hope this will make it easier for builders of the design to check for updates to existing plans and issue of further plans.

As with any developing design, plans are completed and issued gradually and there are inevitably new issues of earlier plans to cope with errors, changes and so on.

The most recent addition is the instructions for assembling the frames, floors and transom, from CNC cut parts (165_002_003).

With boats in build both from conventional laminated structures and ply sandwich structures from CNC cut parts, there are getting to be a lot of plans – 126 of them at the last count!
---
Design 165 Plans
New plans are being added for this design every week.

I haven't been able to email No 165 builders directly (because I haven't had the time to code up a means of doing so).

But for anyone who has bought 165 plans, it is worthwhile checking back every week to see new plans added.

I will be making a better system, so that builders are automatically emailed when a new plan is posted and can easily identify new plans rather than having to scroll through them all, to see which are new.

But for the moment – check back frequently! There are currently over 120 plans for this boat and growing ...

George
---
Design No. 165
Latest plans issued for this design include a sloop rig and a cutter rig sail plan; and drawings for the main hatch.

All the CNC cutting files (for the doghouse version) are on site too in DXF format. At the moment, these come included free with the standard design package.

Several of these boats are building now and there is a slideshow on site showing one of them (in build in Australia). I've just added the latest photos to this, which show the foredeck all fitted and the cockpit under construction.


---
Spritsail Rig for Design 035

For one of these small sailboats in build in South Africa, we have just designed a spritsail rig. This provides a smaller loose-footed main (no boom) and a small jib set out on a very short bowsprit.

This particular project is to give sailing lessons to local people, many of whom are disadvantaged.

The spritsail rig, with its two smaller sails and no boom to dodge is ideal for this purpose and there is the added advantage of a small sail for a crew member to control as part of the learning process.

The new sail plan can be found on the 035 plans page – scroll down to the bottom of the list of plans for the Spritsail Rig Plans.
---
Home
|
8' chine sailing pram
|
8' classic sailing pram
|
10'3" gaff sailing dinghy
|
10'6" gaff sailing dinghy
|
15' half-deck yawl
15'6" 2-berth yawl
|
17'6" 3-berth yawl
|
18'6" 3-berth yawl
|
19' 2-berth sloop
|
20' 4-berth yawl
23' chine cutter
|
23' classic gaff cutter
|
26' fast sloop
|
30' fast cutter
|
67' cruising cutter
22' cat yawl
|
Extended No. 119
|
Commissioning a New Design
|
Why wood-epoxy?
|
Wood-epoxy #1
|
Wood-epoxy #2
|
Wood-epoxy #3
|
Aluminium Construction
|
Steel Construction
Woodbridge Poster
|
Rockland USA
|
Woodbridge UK
|
Whisstocks 1926-1990
Plan formats
|
Support
|
How to order
|
Study plans
|
Build plans
|
Designer
|
Kits
|
Laminating
|
Company
|
Privacy
|
Contact
Site designed, programmed and hosted by Debenriver Ltd