Design 176 – Selestra 51
15.5m' Cruising Ketch
Specification
LOA
15.500 m
50' 10¼"
LWL
13.568 m
44' 6"
Beam
4.400 m
14' 5½"
Draft, deep keel
2.200 m
7' 2½"
Draft, stub keel, c/b up
1.400 m
4' 7"
Draft, stub keel, c/b down
2.720 m
8' 11"
Displacement on dwl
18100 kg
39,904 lbs
Ballast
7000 kg
15,432 lbs
I
18.125 m
59' 5½"
J
5.540 m
18' 2"
P
16.310 m
53' 6"
E
5.775 m
18' 11½"
Py
10.025 m
32' 10¾"
Ey
3.790 m
12' 5¼"
Mainsail
41.100 m²
507.0 ft²
100% foretriangle
50.200 m²
540.3 ft²
Mizzen
19.000 m²
204.5 ft²
135% Genoa
68.400 m²
736.3 ft²
Mizzen staysail
44.500 m²
479.0 ft²
Engine
81 kw
110 hp
EU Category A - Ocean
The Selestra 51
is the first of new range of powerful classic modern cruising yachts envisaged primarily for construction in aluminium alloy, taking full advantage of our long experience of both designing and building in this material. The designs would also be suitable for cold-moulded wood/epoxy construction.
In aluminium alloy the Selestra class is built on well-spaced fabricated ring frames, the principal web components for which can easily be CNC cut, with the flanges naturally formed without rolling. A typical frame for the Selestra 51 is shown below – a larger image is here.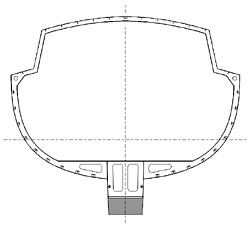 Longitudinal T-section stringers are fairly closely spaced, running through the frames and naturally formed on the job. This system provides and extremely strong substructure, with relatively small panel areas, and will result in a very fair hull, requiring a minimum of filling and fairing if the hull is to be painted.
Plating is in diagonal strips, typically about 400mm to 500mm (16" - 20") wide, which will lay naturally around the hull without rolling or wheeling, and with little edge fitting required.
For yachts from about 10m (33') up, aluminium alloy really comes into its own with the best strength/weight ratio of all materials apart from exotic fibres. It is lighter and cleaner to handle than steel and used correctly in the right grades it doesn't corrode in a marine environment. It doesn't require painting, unless that is preferred, which pretty well produces the ultimate in a maintenance-free hull.
It can be cut with normal woodworking machinery and power tools (table saw, bandsaw, circular saw, router etc.). And it can be filed and drilled with ease. It does require good welding techniques and the correct welding equipment – for yacht work, almost exclusively MiG welding is used. Other than that, no specialist machinery is generally required.
The interior layout of the Selestra 51 is shown below; click the image for a larger version, together with a profile view.

The detailed and accurate plans
together with true step-by-step building instructions lead you through the building process simply and easily. Nothing is missed out. The plans are fully dimensioned. No scaling or lofting is required. You can trust the plans and instructions to be professional, practical, clear and detailed – just follow them and you will be successful. No other information is needed. Professional technical support throughout the build, is available by email, via the forum or by regular mail.
More plan info
…
Home
|
8' chine sailing pram
|
8' classic sailing pram
|
10'3" gaff sailing dinghy
|
10'6" gaff sailing dinghy
|
15' half-deck yawl
15'6" 2-berth yawl
|
17'6" 3-berth yawl
|
18'6" 3-berth yawl
|
19' 2-berth sloop
|
20' 4-berth yawl
23' chine cutter
|
23' classic gaff cutter
|
26' fast sloop
|
30' fast cutter
|
67' cruising cutter
22' cat yawl
|
Extended No. 119
|
Commissioning a New Design
|
Why wood-epoxy?
|
Wood-epoxy #1
|
Wood-epoxy #2
|
Wood-epoxy #3
|
Aluminium Construction
|
Steel Construction
Woodbridge Poster
|
Rockland USA
|
Woodbridge UK
|
Whisstocks 1926-1990
Plan formats
|
Support
|
How to order
|
Study plans
|
Build plans
|
Designer
|
Kits
|
Laminating
|
Company
|
Privacy
|
Contact
Site designed, programmed and hosted by Debenriver Ltd