Specification
LOA
3.200 m
10.50 ft
LWL
2.767 m
9.08 ft
Beam
1.400 m
4.60 ft
Sail area
5.468 sq m
58.84 sq ft
Weight exc. outboard
100 kg
220 lbs
Outboard
1.5-2.25 kw
2-3 hp
Capacity 4 persons
285 kg
630 lbs
Design 37
is round bilge construction with epoxy-ply lapstrake planking. We thoroughly reccomend this design to get you on the water fast in a real boat, with a traditional look and feel.
The rig is a high-peak gaff mailsail and a small jib. The spars are easy to make and the instructions lead you through this process simply and thoroughly. The dinghy is stable and fun to sail; she rows extremely well and handles nicely under outboard.
The hull is constructed on three pre-built thwart assemblies, making this an exceptionally simple boat to build and giving a really good introduction to lapstrake planking. The thwart assemblies are easy and straightforward to construct and, once built, are set up on a simple jig for planking and completion. This process gives fast, easy and very accurate construction, using minimum space in the early stages.
In addition to simplifying and speeding up construction and producing great structural strength, the thwart assemblies also produce eccellent built-in permanent buoyancy should the dinghy be flooded or capsized.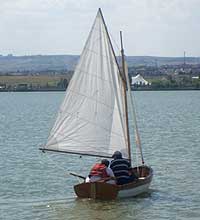 The boat is built using the most modern of materials – WEST™ system boat-building epoxies. The construction gives high structural strength and rigidity, with light weight. The boat can be clear finished (varnished) or she can be painted. In either case you will have a long-lasting low-maintenance structure, so you'll spend you time having fun with the boat rather than maintaining it.
The picture left shows a recent 037 (June 2012) sailing on Lake Mogan-Ankara, Turkey. For videos of the dinghy under construction and the maiden sail, scroll to the bottom of the page
The detailed and accurate plans together with true step-by-step building instructions lead you through the building process simply and easily. Nothing is missed out. The plans are fully dimensioned. No scaling or lofting is required. You can trust the plans and instructions to be professional, practical, clear and detailed – just follow them and you will be successful. No other information is needed. Professional technical support throughout the build, is available by email, via the forum or by regular mail. More plan info …
I never would have thought I could build my own boat ..... following your designs and instructions and doing one thing at a time made it all possible ... thank you for all your support ... Neil Edwards, a builder of Design 037.
Click here to look at the free study plans, sample instructions and specification for this design, plus a full list of the plans and instructions that come with the design package.
Maiden sail:
And Construction:
Home
|
8' chine sailing pram
|
8' classic sailing pram
|
10'3" gaff sailing dinghy
|
10'6" gaff sailing dinghy
|
15' half-deck yawl
15'6" 2-berth yawl
|
17'6" 3-berth yawl
|
18'6" 3-berth yawl
|
19' 2-berth sloop
|
20' 4-berth yawl
23' chine cutter
|
23' classic gaff cutter
|
26' fast sloop
|
30' fast cutter
|
67' cruising cutter
22' cat yawl
|
Extended No. 119
|
Commissioning a New Design
|
Why wood-epoxy?
|
Wood-epoxy #1
|
Wood-epoxy #2
|
Wood-epoxy #3
|
Aluminium Construction
|
Steel Construction
Woodbridge Poster
|
Rockland USA
|
Woodbridge UK
|
Whisstocks 1926-1990
Plan formats
|
Support
|
How to order
|
Study plans
|
Build plans
|
Designer
|
Kits
|
Laminating
|
Company
|
Privacy
|
Contact
Site designed, programmed and hosted by Debenriver Ltd